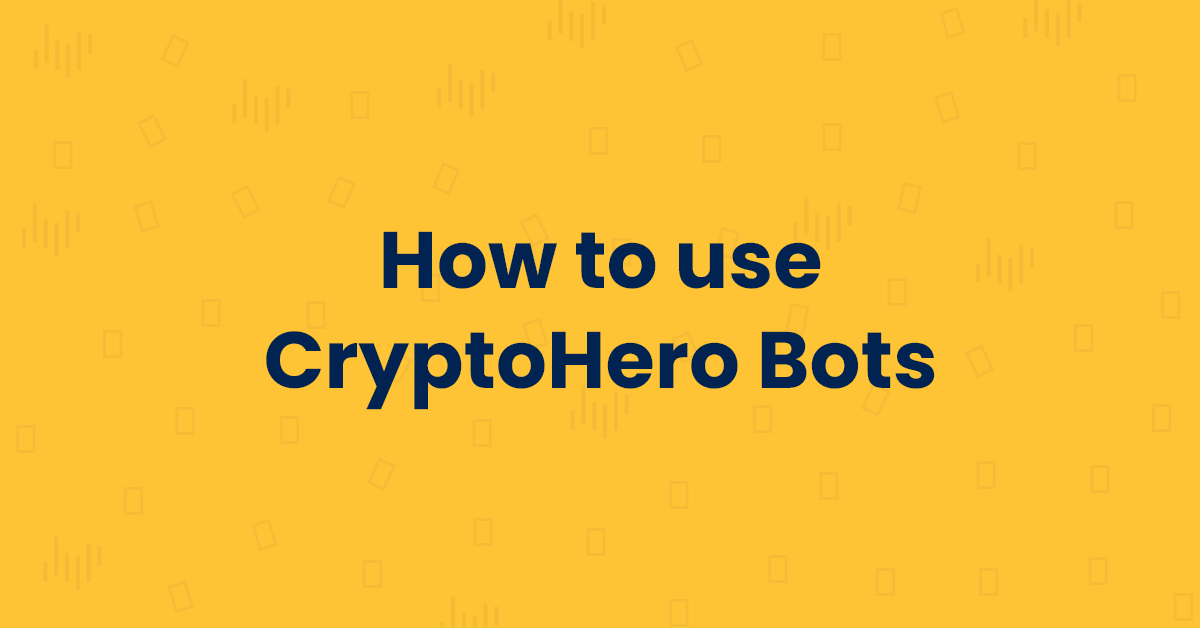 After taking the plunge and deciding to dabble in cryptocurrencies, beginners are often faced with the question of how and when they should buy and sell their Cryptocurrencies in order to profit. Such questions are often followed up with questions on how they can passively earn from their cryptocurrency holdings. In this short article, we will be giving a quick guide for beginners to get started on automated cryptocurrency trading using CryptoHero.
Setting up an exchange account
If you already have an exchange account set up or already purchased some cryptocurrencies, and are ready to begin automating your trades, kindly proceed to the next section. However, if you are like most that have just started to dabble in cryptocurrency trading, keep reading.
Cryptocurrency exchanges are much like regular stock exchanges that allow users to buy, sell, and hold on to cryptocurrencies. Prominent, trusted and well-established crypto exchanges include Binance, OKEX, and Huobi – all of which are supported by CryptoHero. After setting up an exchange account, users will be able to buy cryptocurrencies using fiat (regular money) and begin trading cryptocurrencies.
However, after completing such a process, users often ponder upon several questions such as:
"When is a good time to buy BTC?"
"What is a good price to buy BTC if I expect prices to rise?"
"When should I sell my BTC?"
Over here at CryptoHero, we aim to help resolve this issue for users by providing them with the tools to not only automate trades but to determine when to buy and sell cryptocurrencies as well – all without any coding experience.
Linking exchange accounts to CryptoHero
CryptoHero is able to help users automate their trades on linked exchange accounts. However, users will first have to grant CryptoHero access to their exchange accounts to automate trades for them. This process will only give CryptoHero the ability to look at a user's portfolio balance and place buy or sell orders on their behalf. CryptoHero will not be given the ability to withdraw funds from exchange accounts.
Linking CryptoHero to exchange accounts can be done through the settings tab in the CryptoHero application and the API management pages of the respective exchanges. They generally require users to create an API for CryptoHero and key in the API keys in the CryptoHero application. Upon successful linking of the exchange account and the CryptoHero application, users will be able to see the amount of funds in their exchange accounts and how much funds can be allocated to their trading bots.
Setting up a trading bot on CryptoHero
After successfully linking an exchange account, users can immediately begin setting up a trading bot on CryptoHero in a matter of minutes with the intuitive user-friendly interface. The process of setting up a trading bot on CryptoHero only requires users to enter a few parameters such as the trading pair, their position, technical indicators to be used, take profit and stop-loss levels. There is also an automated back-testing feature integrated within the bot creation process, allowing users to see how their bot would have performed based on historical prices.
Alternatively, CryptoHero also allows users to set up paper trading bots to test out their strategies without risking their capital, allowing even users who don't have an exchange account linked to experience simulated cryptocurrency trading on CryptoHero.
Download CryptoHero for free:
While this post is by no means investment advice, we hope that this guide has been useful in showing new users how to use CryptoHero to begin automating their cryptocurrency trades. The CryptoHero mobile app is currently available on the App Store for both the iPhone and iPad. Join us on Telegram if you've any questions or feedback!