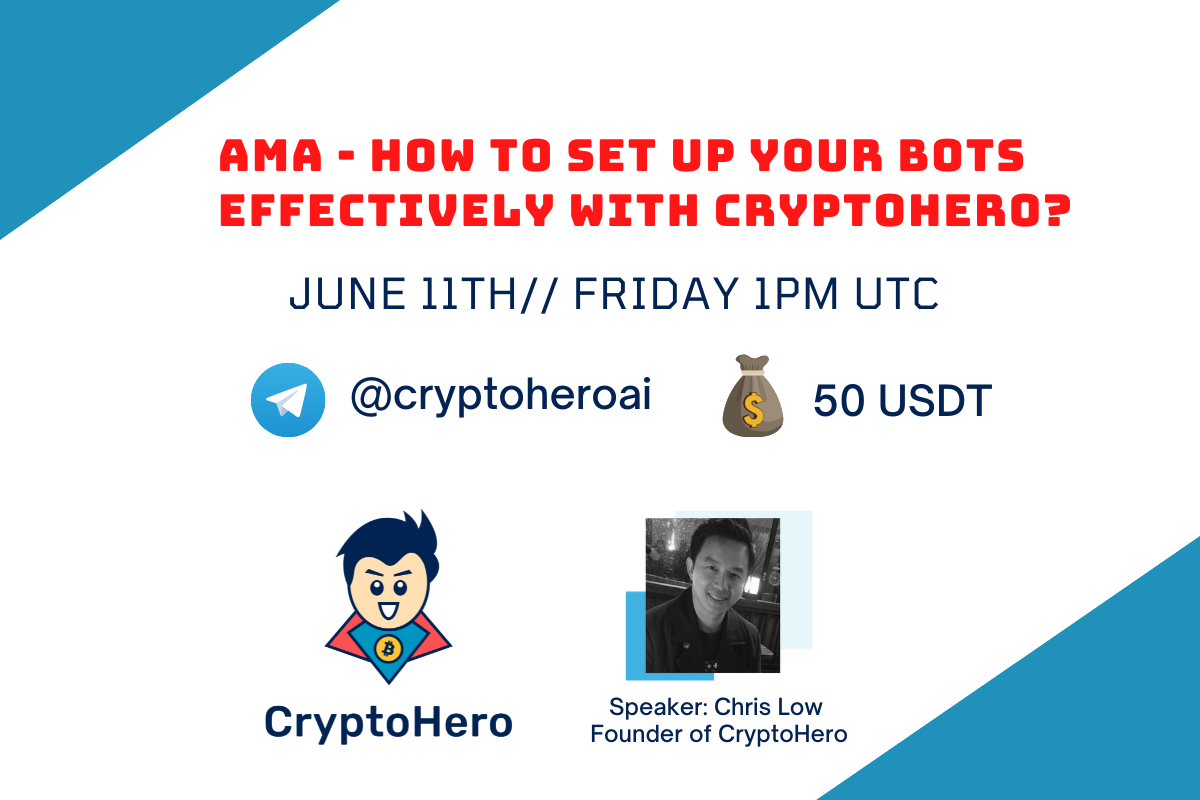 AMA SEGMENTS
Part 1: Q&A with the speaker – Topic: How to set up your bots effectively with CryptoHero?
Part 2: Live Questions 
——————–
Admin: Welcome to our AMA today, guys.
In this segment, Chris will be our speaker. Being the founder of CryptoHero, he will give us some tips and lessons on how to set up our bots effectively.
How is your day, Chris?
Chris: Hi Everyone! Good to be here. Today's been great. I wish the same for you.
Happy to hear! Ready to start our AMA?
Let's go!
——————–
Q&A segment:
Q1: What is the difference between CryptoHero bot and the bots from its competitors?
First of all, I would like to thank each of you for giving CryptoHero a chance. I believe one of the key differentiator is the team behind CryptoHero. The management team comprised of experienced fund managers who had been trading for years. We have imparted our know how into CryptoHero mechanics. And over the next few months, we will be launching more features which aim to give our users the edge or alpha as we call it in fund management.
Next, I've instilled a strong customer service culture in the team. We want to make sure that all of our users will be able to reach out to us through multiple channels. As most of you are probably aware, we have channels like WhatsApp, Telegram, email, etc. and we do our best to be as responsive as we possibly can.
Q2: Thank you for a very detailed anser. As you mentioned, in the next few months, CryptoHero team will be launching more features. Can you reveal a little bit about them?
Some of you might have heard that we will be launching a new Referral Program. This is just the tip of the iceberg. 
Feature and platform wise, we will be releasing our Android app very soon. We will also be releasing enhancements to the mobile app such as the availability of Trading Terminal within the mobile app. Our product roadmap is filled all the way till next year. And I am excited as we release subsequent versions in the next couple of months.
Our development approach is from a user first perspective. You will not find any feature which is pointless.
Q3: Being a trader, are you using your own product (CryptoHero)? If yes, how have your own bots performed so far?
Definitely. We have to be the biggest users of our own product. So far, my bots are doing well. Of course the market rout is bad for everyone. But, don't let the market best you. I've tweaked the bots to acclimatize to the current volatility.
Q4: Can you share with us some tips or lessons on how to create good profitable bots with CryptoHero
No problem. I will share one of my favorite settings (note: this is not a recommendation or endorsement). 
Everyone's risk appetite is different. For myself, I've several bots setup for a specific trading pair.
One of my favorite indicator is RSI on a long strategy. My favorite interval is 1 hour.
I can go at lengths on the pros and cons for each of the bot's setting but shall stop here. Haha.
Q5: As I know, many members in our group are beginners. Can you give some advice on which settings are good for a trade with just 200$?
Can try with
– long strategy
– Base order – 100%
– time interval – 4 hours (4h)
– entry condition : RSI
– exit: take profit 10%
– stop loss: 5%
Disclaimer: use at your own risk.
As the interval is 4h it maybe days or weeks even before the bot enters a trade. It depends on the market flux. 
You can also tune down to 1h if your risk appetite is higher.
Q6: What is the difference between basic and premium version? Are there any features from premium one that can help us to set up our bots better?
Both free and premium plans get to enjoy the same set of features except that a Premium plan allows a user to setup multiple bots. 
In the next couple of months, we will be introducing more features which will only be available under the Premium plan. One of the planned feature is granular settings for technical indicators. This will be available for the Premium plan.
————————-
Live question segment:
Q1: What is the biggest challenge you face currently in terms of becoming a successful project or company?
I believe the biggest challenge I face is always building a great product for our users. A great product will allow the customer to be your strongest advocate. And I feel this is how growth should be sustained. To build a great product, we must always listen to our users and customers. To always be responsive and to make sure that we cater to their issues as fast as we possibly can.
Q2: How do you plan to spread awareness about your project in different countries where English is not spoken well? Do you have local communities for them to let them better understand about your project?
Yes we plan to launch CryptoHero in other languages. In addition, it is our hope that there will be local community "champion" to push CryptoHero.
Q3: What is your strategy to attract users and Non-Crypto to your in the long term?
As I mentioned, we want to build a great product. We believe this will bring in the users. Of course, we will also launch strong community engagement campaigns to further enhance the vibrancy of our community.
Q4: I set up my bot for a few times but usually it takes days to enter a trade, very long time. Is there anyway to make the bot enter a trade faster? What settings are the best? And do you take commission on orders?
The interval value affects the time frame in which a bot enters a trade. For the fastest time frame, set the interval to 15 minutes. In terms of settings, do take a look at my comment above. 
At the moment we do not take commissions.
Q5: How do you evaluate the support from community ?  What message do you want to send to community through AMA today ?What are the plans to educate and raise awareness and adoption among the community to make more people understand about the project easily?
This is our inaugural AMA. It is our hope and belief that we can only build a great product if we engage with our community. This AMA serves this purpose. We will be launching more community centric activities in the next few weeks. Keep a lookout for them.