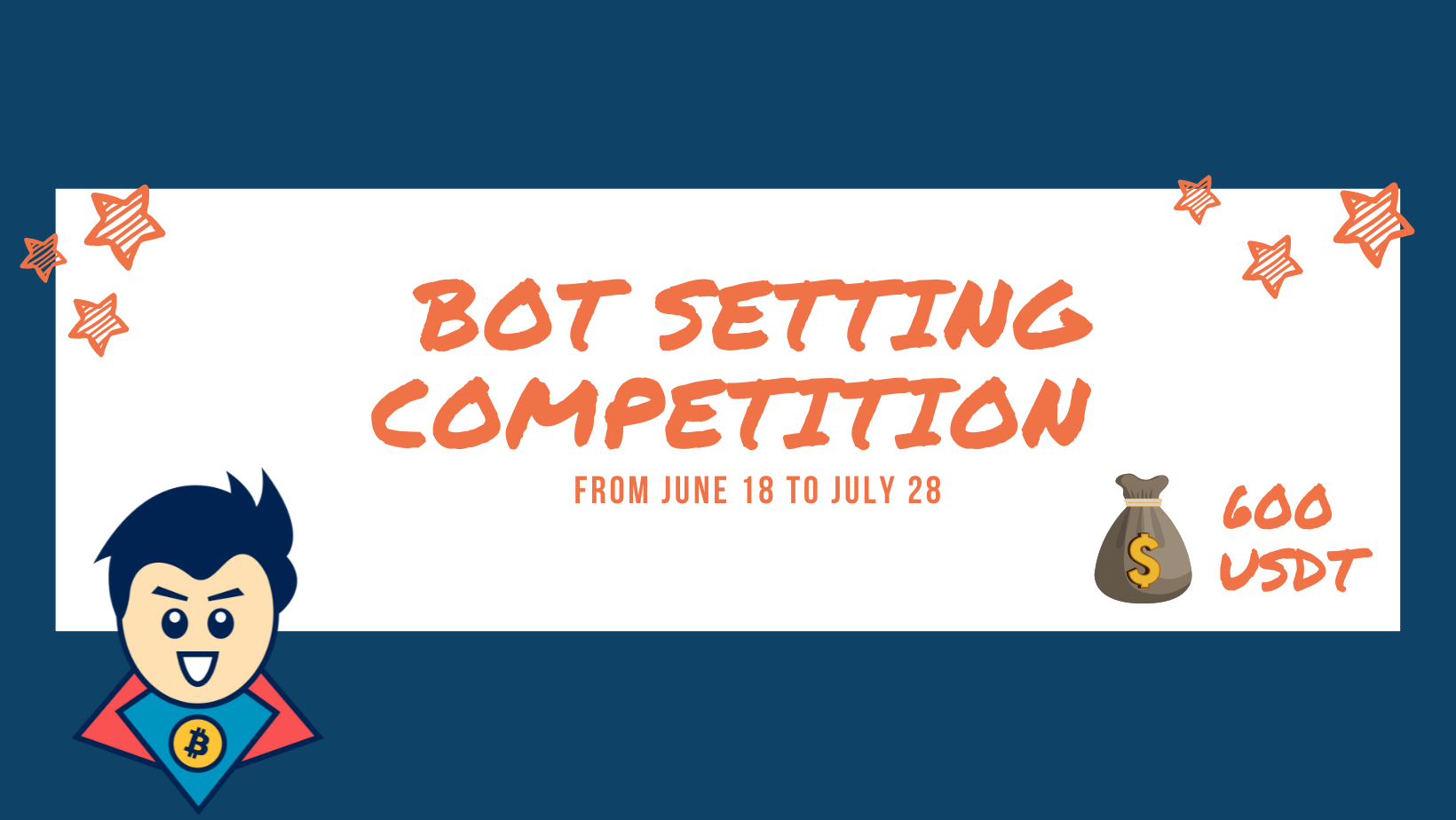 We are excited to announce the Bot Setting competition. Please read the details of this competition:
HOW TO ENTER:
1. Preparation stage:
– Choose your best performing bot and take a video of how you set up your bot's settings (From the point of clicking the New Bot button to the end by clicking on the Create Bot button)
NOTE: 
– Minimum trading volume during Trading Period: $200
– You may setup as many bots as you like
– This competition is open to all CryptoHero users, either on our Free or Paid plan
2. Uploading stage:
– Post that video on your own Twitter account 
– Follow CryptoHero twitter and join CryptoHero telegram group
– Tag 3 friends and use the hashtag #contest #tradingbots #CryptoHero
– Drop the Twitter link into Telegram group (You can call for voting in our group or any other groups)
3. Submission stage: Send us an email to [email protected] with the following information:
– Your account email;
– URL of the post (Twitter, Facebook or IG) containing your video(s);
– Name of the bot;
– Total Profit for the bot
– Total Completed Deals for the bot
NOTE: 
– Any submission received 7 days after the end of the Qualification Period will be rejected
– You may submit as many videos as you want. Each submission must only contain one video illustrating a walkthrough for creating one bot. You may send multiple submissions on separate days before the deadline.
PRIZE:
– Number of winners: 3 
– Prize: (For each winner): 200 USDT (The winners will have to bear the transfer fee as charged)
HOW TO CHOOSE THE WINNER: Winners will be determined by the following factors for each bot:
– Total Profit and Loss
– Number of Deals Opened and Completed
TIMELINE
– Our contest will start  from June 18 to July 17th, 2021 (the Trading Period)
– Start date of trading: June 18, 2021
– Close date of trading: July 17, 2021
– Last date for submission: July 24, 2021 inclusive
– Winner official announcement: No later than July 28, 2021
OUR TERMS & CONDITIONS
– By participating in this competition, you hereby grant Novum Global Ventures Pte Ltd ("NGV") the right, free of royalty and encumbrances, to publish your video and bot's settings in all our instructional, app, documentation, sales  and marketing materials. By sending us your video content, you warrant that you are the creator of the video content.
– NGV reserves our rights to modify any terms of this competition at any time or to cancel this competition entirely.
OUR CONTACT
Feel free to contact to us if you have any question: Facebook / Twitter / LinkedIn / Telegram
Email: admin [at] cryptohero.ai