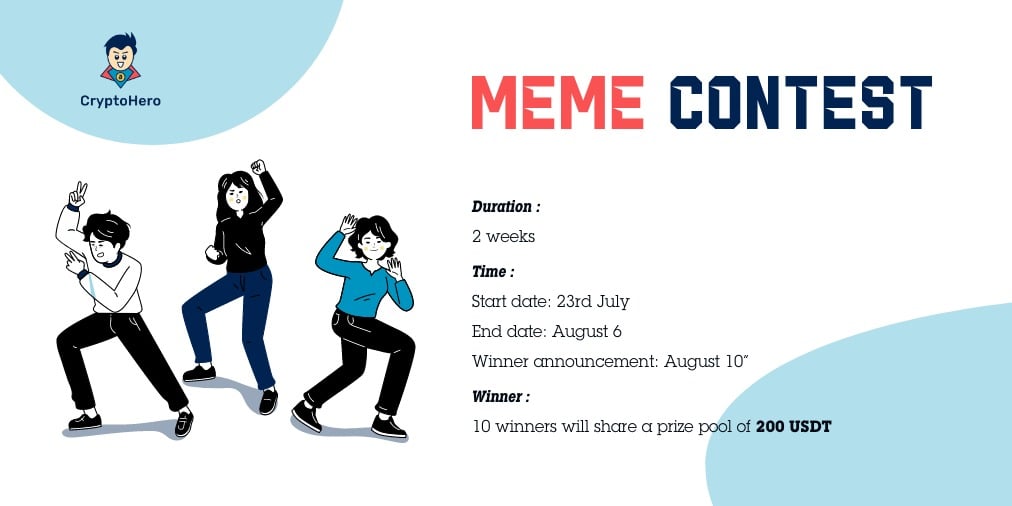 We are excited to announce the Meme Contest. Please read the details of this contest:
How to enter:
– Join http://t.me/cryptoheroai and follow https://twitter.com/CryptoHeroAI 
– Tag 3 FRs & Retweet with the hashtag #cryptomeme #cryptohero
– Create a meme related to crypto trading, drop it into the group http://t.me/cryptoheroai
NOTE: We DO NOT accept FUD, negative, sarcastic memes! Let's bring positive energy to our community.
Memes, animations, videos, and every kind of arts are acceptable!
Duration: 23 July – 6 August
Prize pool: 10 winners will share a prize pool of 200 USDT
Join now and get the prize of 200 USDT!
OUR CONTACT
Feel free to contact to us if you have any question: Facebook / Twitter / LinkedIn / Telegram
Email: admin [at] cryptohero.ai